If your business is connected to Square for processing credit card payments, to hold a card on file you will need to save the client's card information directly in your Square account. To do this:
Open the Square POS app.
Select More.
Select Customers.
Either select an existing customer account or create a new customer.
Scroll to Payment on File and select Add Card.
Once the card has been added directly in Square, you will be able to access and charge it via the MassageBook Manager app.
To use Cards on File in the MassageBook Manager mobile app, you will need to begin checkout of the client's appointment and select the "Link card on file" option shown below: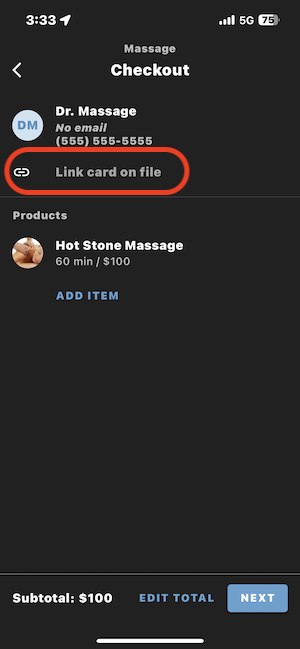 Once you have linked the MassageBook Client to the corresponding Square customer account, the client's saved card (credit card or gift card) will then be available to charge after selecting "Pay with Square":