The widgets on your Personal Dashboard display a snapshot of how much income is being generated by appointments assigned to your staff profile, recent appointments without a SOAP Note, items that may require your attention, and how your as a provider are being rated by your clients. You can control which widgets display and in what order they are arranged.
By default, all widgets will be enabled. To hide a widget, select Dashboard Settings and deselect the checkbox next to the widget that you wish to disable. 
My Appointments
The My Appointments widget displays the revenue generated from all appointments checked out since the 1st of the month where you are the assigned Service Provider.  The default monthly goal is set to $1,000 but can be modified so that it accurately reflects your monthly sales goal.
Note: Revenue is based on the date of check-out, and not necessarily the date of the appointment. 
The My Appointments widget allows you to:
Set a monthly revenue goal for yourself.
See the daily amount of sales needed to reach your monthly revenue goal.
View how well you are tracking towards reaching each day's revenue goal .
To set your monthly sales goal, simply click inside the box displaying the current value and enter your amount. Click outside of the box to save your changes.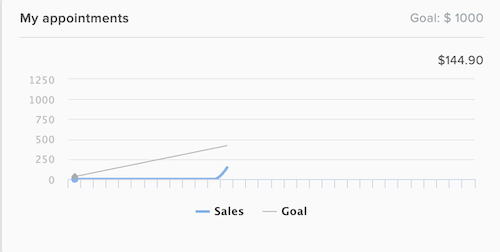 Your progress towards reaching your goal is reflected in the widget's Sales chart. 

The grey line represents your business' monthly revenue goal.
The blue line shows the current cumulative revenue numbers for the business across each day of the month. This includes all the total number of Sales for all Service Providers working for your business.
Hover the cursor of your mouse over each day to view your daily sales goal and your current progress. 
SOAP Notes to Write
The SOAP Notes to Write will display appointments in the past 7 days that does not yet have a SOAP Note created for the appointment. Select the Write button to open a new SOAP Note for that appointment and begin filling out the necessary information.
Items Needing Your Attention
The Items Needing Your Attention widget acts as your personal MassageBook assistant. Whether it's pending items that need to be completed within your account or a friendly reminder to create an upcoming holiday campaign, this area will offer simple suggestions to ensure you're on top of your game! Select the Do it button to complete the task! Be sure to check this area often, as the suggestions keep you up-to-date with your growing account.

Reputation
The Reputation widget shows the overall Review score and the total number of reviews for you as a Service Provider.
Note: Service Provider profiles are not currently listed in the Directory, so the "Local Rank" of your Personal Profile can be ignored for the time being.