This tutorial will walk you through all you need to know to connect with your Square account and collect payments in MassageBook! 
Before you begin:
You will first need to create and set up a Square account. For assistance with creating and managing a Square account, visit the Square Help Center. Square's standard credit card processing fees apply. 
This integration allows you to pay a MassageBook balance using your Square account. You will not be able to choose an item from your Square Products or Services Menu during checkout. Sales will be reflected in both MassageBook and Square. 
Step 1: Connect your existing Square account
Login to your MassageBook account.
Select Settings > Credit Card Payments.
Select Connect with Square.




Agree to the Terms and Conditions, and select Connect with Square. 




Enter the email address and password for the account you want to connect.




Select Allow on the Permissions page.
Once you've successfully connected your account, all transactions (online booking pre-payment, desktop cash register, and mobile cash register) will be deposited into your Square account. 



Note: If you have multiple locations set up under your Square account, a window will display for you to choose the account you want to connect prior to successful connection. 
Step 2: Accept payments with Square POS using both the MassageBook Manager app and desktop site on your tablet or phone
MassageBook Manager lets you check out an appointment and take payment through Square without the need of using the Square POS app. Since MassageBook Manager offers an integrated checkout experience through Square, your Square bluetooth reader will need to be connected to MassageBook Manager rather than the Square POS app. 
Important notes: before accepting payments through Square in MassageBook Manager, you may need to disconnect and reconnect to Square within the desktop version of your MassageBook account. Please read below for steps on how to do so. If you have clients enrolled in memberships, please view the note about that as well.
Also, MassageBook Manager has integrated checkout with Square. You will not need to connect your Square reader to the Square POS app to use MassageBook. If you are having troubles connecting your Square reader, ensure it is not connected within the Square app. To disconnect your reader from the Square app, you can go to bluetooth settings on your device and choose "Forget Device" for the Square reader. Then during checkout within MassageBook Manager it will reconnect.
To check out with Square, follow the steps below:
Tap an appointment within your schedule to open the Booking Details page.

If you are in the Agenda view, you can also swipe right on the appointment to see a checkout option.

Tap 

Checkout 

Link card on file allows you to select a customer that you have previously added within Square. If they have a card on file, then that will be linked for payment. 

Note: Currently, the customer profile and credit card information will need to be added in Square first. Or the card will need to be added during membership enrollment. I

f the client selected to save their card during online booking, the card information saves in your square account, but MassageBook does not allow that card information to be used during check out at the moment.

Add Item

 allows you to add services, products, or promotions to the sale. Note: any services added during checkout will be added to the client's record as a prepaid credit to use in the future.

Edit Total

 allows you to discount the total amount due

Tap 

Next
Tap the

 

Gear Icon

 

next to

 

Pay with Square

 

to begin connection to your Square reader

Tap Connect Reader and press the button down on your Square reader until all lights flash orange.

Select Pay with Square after your Square reader has connected
Select a card on file, or select Swipe card 

Dip, tap, or swipe the card and complete payment.
Step 3: Accept payments from clients pre-paying online or via your MassageBook Cash Register on a desktop or laptop
When you checkout transactions in MassageBook on a desktop or laptop computer, simply select Charge and manually enter the payment information.  To be clear, you cannot use your Square card reader when taking payment through a laptop/desktop computer. Square POS app and devices are only compatible with phones and tablets. When a client pre-pays online for an appointment, or purchases a MassageBook gift certificate, the transaction will be deposited into your Square account according to your Square deposit schedule. These transactions are subject to Square's card-not-present credit card processing fees. 
Step 4: View the receipt in both MassageBook and Square
Once you've completed a transaction, a receipt will be generated in both your MassageBook account and Square account. The Square receipt will also include the MassageBook invoice ID.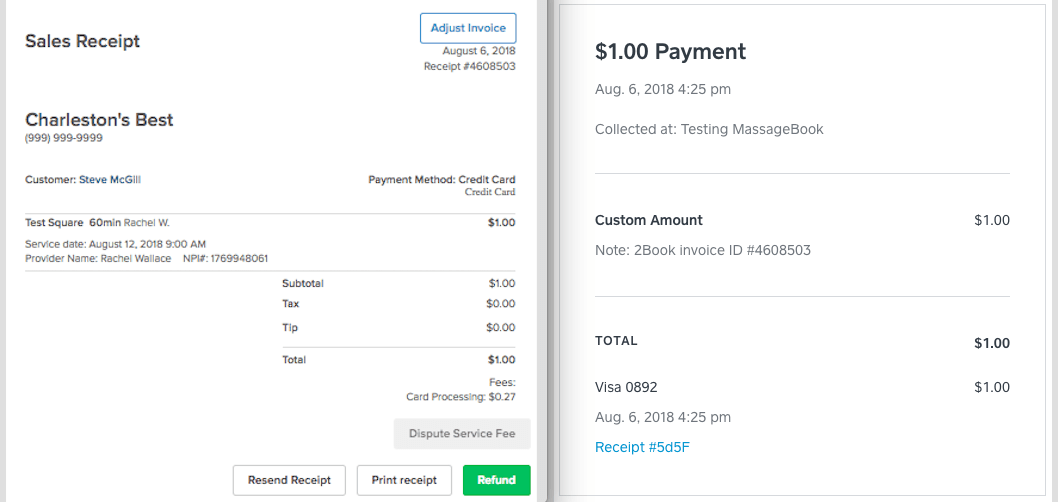 Have more questions about your Square account? Check out the Square Help Center, here. Have more questions about MassageBook's integration with Square? Check out our FAQ's, here.